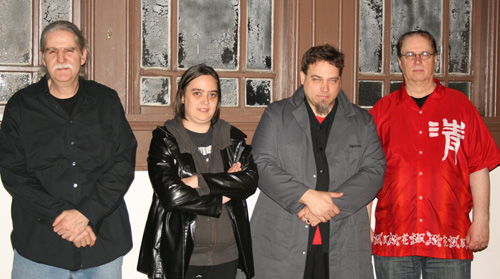 photo: Nick Turner (click for hi-res version)

Rent Romus' Lords of Outland

CJ Borosque - trumpet, no-input pedal electronics
Philip Everett - drums, percussion, electronic autoharp
Ray Schaeffer - electric basses
Rent Romus - alto, soprano, c-melody saxophones, voice, electronics, toys

"Romus' fiery romp is a no-holds barred exposition. He slices through steel with accuracy and ease, equating to a jovial soundscape, scraped with intensifying solos and Everett's colorific cymbals hits. They galvanize your neural system from start to finish, while projecting a take no prisoners approach throughout." - Glenn Astarita, All About Jazz

Saxophonist, composer Rent Romus started the Lords of Outland in 1994 a collective of like-minded musicians focusing on exploring improvisation, melody, noise, and sound art while acknowledging their jazz, rock, and blues roots. The group has developed original music ranging from unhinged free improvisation to thematic compositional suites inspired by abstract and socio-political poetry, science fiction, horror, and fantasy.

Throughout the the groups rich history it's core roster has changed numerous times featuring guests such as Vinny Golia, John Tchicai, Hasan Razzaq, LA Jenkins, and Josh Allen recording 11 albums and performing throughout the West Coast of the United States.

Rent Romus is a force spanning over 25 years of D.I.Y. music production curating over 80 shows a year for the new music avant garde and jazz communities as well as leading several groups from rolicking jazz to free abstract chamber music, to sounds tracks for film and dance. Ray Schaeffer has performed in a diverse array of ensembles from full orchestra to folk rock bands, and experimental improv groups going back to the 1970s. Philip Everett found his mettle in Bartok, Debussy, and Gershwin as well as New Orleans style 2nd line marches. Armed with an array of teachings Phillip, became the leader of various groups over the years starting in 1967 to present crossover experimental country, free jazz, and avant rock. When CJ Borosque isn't writing poetry, making videos, or painting abstract art, she's blening noise and melody through no-input analoge pedal systems and trumpet. Her fascinations include, art, cooking, sound, noise, sculpture (sonic and tactile), Installations, silent films, avant-garde films and videos, modern, impressionist and surrealist art, jazz, world and classical music.

Other Lords of Outland members include James Zitro, Kash Killion, Jason Olain, Vytas Nagisetty, Andrew Borger, Bill Noertker, John Tchicai, David Mihaly, Toyoji Tomita, Joel Harrison, Tom Nunn, Doug Carroll, Andre Custodio, Jesse Quattro, Jonas Muller, Jim Ryan, Darren Johnston, Damon Smith, and Vinny Golia.

Discography for Lords of Outland
Thee Unhip, Nine Winds 2012
Cloud Knitter Suite Live, Edgetone 2012
Edge of Dark, with Vinny Golia, Edgetone 2010
XV (the first fifteen years 1994-2009), Edgetone 2009
You can sleep when you're dead!, Edgetone 2008
Culture of Pain, Edgetone, 2006
The Metal Quan Yin, feat. the poetry of CJ Borosque, 2001
Avatar In the Field – A Tribute to Albert Ayler, Edgetone, 2001
PKD Vortex Project – New Music composed inspired by the Stories of Phil K. Dick, Edgetone, 2001
Adapt…or DIE!, with John Tchicai, Jazzheads Records, 1997
You'll Never Be The Same, Jazzheads Records, 1995


Video excerpt of Lords of Outland @ Marilyn's On K in Sacramento California March 2013